Track 4: Horror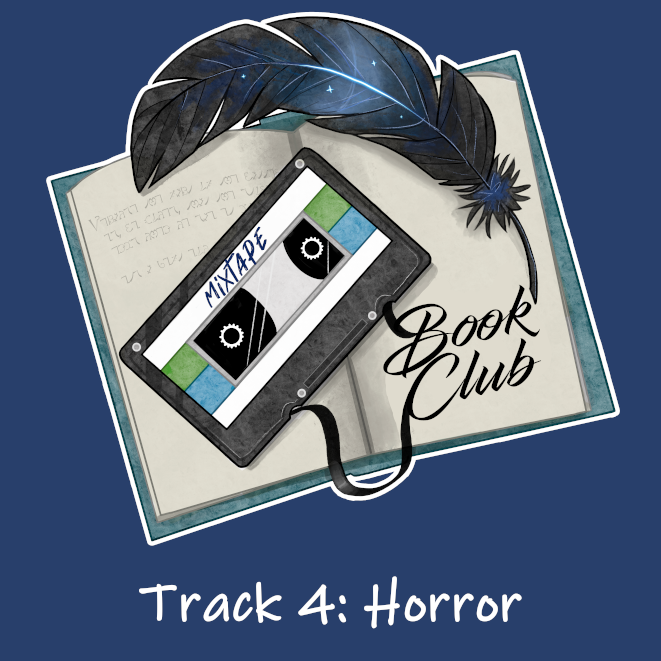 Welcome to episode four of the Mixtape Bookclub Podcast!
Do you love Supernatural? Are you a fan of Dean and Castiel, and their relationship? Do you enjoy reading Destiel fanfiction? This is the podcast for you!
In this episode, we welcome a special guest, jscribbles, to discuss all things spooky to celebrate Halloween. We review three fics: Taker of Souls by Jscribbles, Bring Up the Deep by deathbanjo, and From Sea to Shining Sea by MsCaptainWinchester.
A warning: Adult themes are mentioned in this podcast.
Podcast: Play in new window | Download
Our guest:
jscribbles
You can find jscribbles' fanfiction on ao3 here, where she shares a range of stories.
Featured fics
Bring Up the Deep by deathbanjo
Published 2016, 22k words, rated E.
With art by PurgatoryJar
They went back and forth on whether or not to make the drive until Sam found an article in the town's local paper dated a week earlier about a lobster fisherman who swore a monster sank his boat.
From Sea to Shining Sea by MsCaptainWinchester
Published 2018, 43k words, rated E.
With art by cryptomoon
Dean and Castiel are only a few short months of college from reuniting after five long years on opposite coasts. It doesn't seem like long, but then a virus breaks out close to Dean, and suddenly all their plans are ruined.
Now there are new plans. Dean is going to do everything he can to cross the country, picking up strays and a reputation for violence along the way. Cas is building a new colony of survivors, determined to stay still long enough for Dean to find him.
But without contact, neither knows if they will ever see the other again. Can Dean survive his cross-country road trip through zombie nation? And if he does, will Castiel still be there to meet him?
Taker of Souls by jscribbles
Published 2018, 128k words, rated E, violence & non-con
With art by Jdragon122
The angels have fallen. Castiel is human, Sam is recovering from the trials, and Dean doesn't want to expose them to the world as it's crumbling outside the bunker doors.
To pass time in their solitude, Dean discovers a hidden room in the bunker full of dangerous magical artifacts and accidentally exposes his friends and family to an ancient horror. If Castiel thought adjusting to humanity was already a terror in itself, he experiences a world of pain when the ancient spirit Dean released chooses him as a vessel to fulfill its evil prophecy.
Castiel begins to change as voices call out to him in the night and take the form of the one righteous man he desires, temptation drawing him to complete a ritual that will allow one of Hell's most feared ancient entities to occupy his vessel.
Before Sam, Dean, Kevin and Crowley know what is happening, they are thrown into a lockdown, unable to escape the bunker as the cruel, twisted monster inside of Castiel prowls the hallways, hunting them, thirsty for their blood, hungry for their souls.
Horror in SPN
Other Spooky stories we recommend: (please read the tags)
Is your favourite not in this list? Please let us know, we'd love to hear from you!
Our intro music is "Angel with a Shotgun" by The Cab, arranged by Ellen.
---